ECG Interpretation
Sinus rhythm, rate 140/min (Sinus Tachycardia)
Normal conduction
Normal axis
Normal QRS complexes
Slightly depressed ST segments in leads V1–V6
Biphasic or inverted T waves in the inferior leads (II, III, aVF) and all the chest leads (V1–V6) (Right ventricular strain pattern)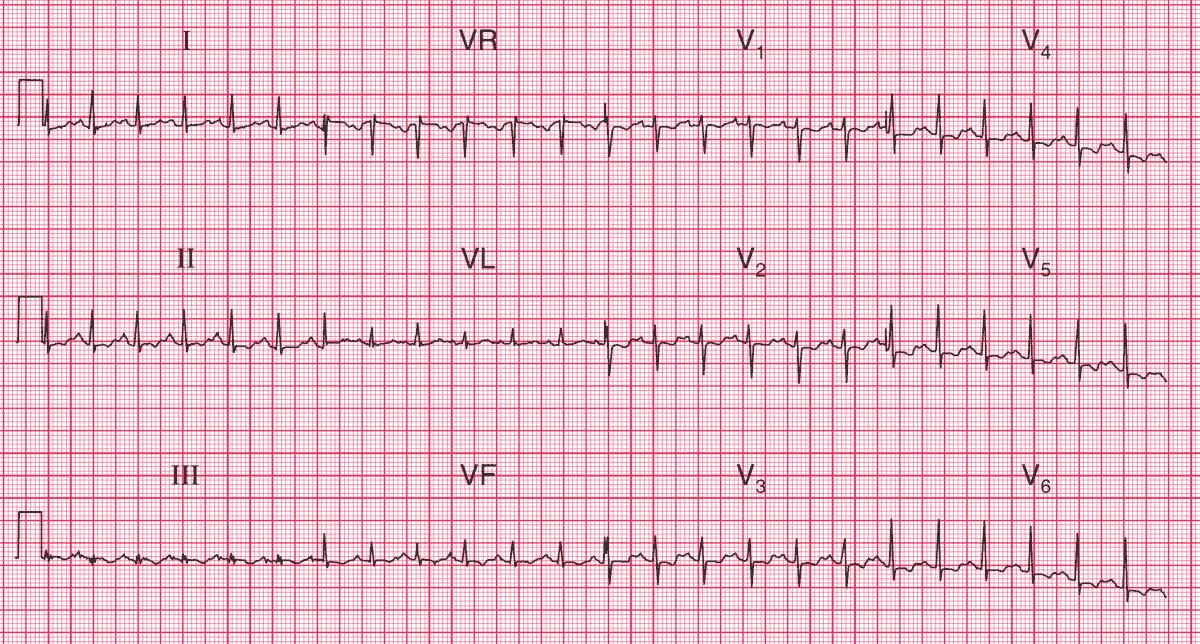 Clinical Interpretation
The ECG shows a marked sinus tachycardia, with no change in the cardiac axis and normal QRS complexes. The widespread ST segment/T wave changes are clearly very abnormal, but are not specific for any particular disease. However, the fact that leads V1–V4 (right precordial leads) and inferior leads (II, III, aVF) are affected suggests a right ventricular problem.
A pulmonary angiogram was carried out as part of a series of investigations immediately after admission. It showed a large central pulmonary embolus and occlusion of the arteries to the right lower lung.
What to do ?
This is a case where the ECG must be considered in the light of the patient's history and physical signs (if any). Clearly something has happened: the sudden onset of breathlessness without pain suggests a central pulmonary embolus – with pulmonary emboli that do not reach the pleural surface of the lung there may be little pain.
In this patient, an echocardiogram and then a pulmonary angiogram demonstrated a large pulmonary embolus.
Remember that sudden breathlessness with clear lung fields on a routine chest X-ray is always assumed to be due to a pulmonary embolus until proved otherwise. Heparin is essential; thrombolysis should be considered.