General and Airway
Empiric treatment of Stridor in Children
Racemic Epi
Nebulized steroids
Steroids IV
Emergent intubation?
Types of stridor:
Inspiratory → subglottic
Expiratory → supraglottic
Biphasic → subglottic, glottic
Sonorous → nasal
Rule Out Emergent Diagnosis and Causes of Stridor in Children
Epiglottitis
Retropharyngeal Abcsess
Bacterial Tracheitis
Foreign Body Aspiration
1. Epiglottitis
Definition of Epiglottitis
Acute inflammation of epiglottis and surrounding structure → serious, life threatening, airway emergency
Clinical
Age: 2-8yo; Season: Winter
Viral type prodrome
Toxic, irritable, fever
Tripod position, hyperextended neck
The D's: Drooling, Dyspnea, Dysphonia, Dysphagia
Diagnosis of Epiglottitis
Lateral neck Xray → "thumb print sign"
Diagnosis made on visualization of inflamed epiglottis
Treatment of Epiglottitis
Avoid agitation of child as this can worsen the airway (no IV, oral examination)
If emergent airway needed → use tube size 0.5-1 smaller than age
Ideal airway should be obtained in the OR, controlled conditions
Antibiotics (3rd gen Cephalosporin)
2. Retropharyngeal Abcsess
General
Clinical Presentation similar to meningitis but usually has normal mental status
Pathology: Deep neck space infection (URI vs penetrating trauma to oropharynx), can spread through neck → danger space → cause mediastinitis
Clinical
Torticollis (stiff neck?) (36.5%)
↓ Neck extension (45%), ↓ Neck flexion (12.5%)
Dysphagia
Trismus, toxic, fever
Stridor rare (3%)
Age:

50% of cases occur between 6-12mos, 96% occur before 6 years of age (Arch Dis Child 1991;66:1227-30)
Lymph nodes of Rouviere that drain the retropharyngeal space atrophy after 6 years

Appearance: Child with neck in neutral, difficulty extending neck and uses eyes to look up
Often confused with meningitis:

↓ Neck flexion in meningitis vs. ↓neck extension in RPA (Pediatrics 2003;111:1394-8)
Work-up for Retropharyngeal Abcsess
Xray, lateral neck

Low yield, not widely used

CT neck

Helps localize where problem is
Difficult to differentiate between pus and cellulitis

US neck

May help distinguish between purulence vs adenitis vs abscess
Treatment of Retropharyngeal Abcsess
ENT Consultation
Antibiotics (alone treat 37%):
OR if not improve
Complications of Retropharyngeal Abcsess
Airway compromise
Descending necrotizing mediastinitis

Spread from Retropharyngeal space → retrovisceral space → pierce alar fascia → Danger space
Rare in children

Internal jugular vein thrombosis
Mycotic aneurysms
3. Bacterial Tracheitis
General
Croup-like illness + toxic + not respond to therapy
Pathology: laryngeotracheobronchitis, subglottic edema and membranous secretions
Clinical
Bacterial Tracheitis vs epiglottitis (J Otolaryngol 1989;18(3):101-4)

Tracheitis children have a cough, comfortable lying down, no drool

Age: 6m-8y; Season: fall/winter
Present similar to Epiglottitis/Croup
Cough, toxic, fever, respiratory distress
No response to treatment
Diagnosis of Bacterial Tracheitis
Frontal neck X-ray → Steeple sign (non-specific finding)
Endoscopic visualization of normal supraglottic structures and subglottic inflammation, pus in airway, ulcers, secretions
Treatment of Bacterial Tracheitis
Emergent airway → use tube size smaller than what is appropriate for their age
Ideally intubated , diagnosed, cultured in the OR under optimal conditions
4. Foreign Body Aspiration
Clinical
Age: Infants/toddlers
Classic Triad (wheeze + cough + decreased breath sounds) present in only 1/3
Symptoms (3 stages)

Violent cough
Asymptomatic interval
Complications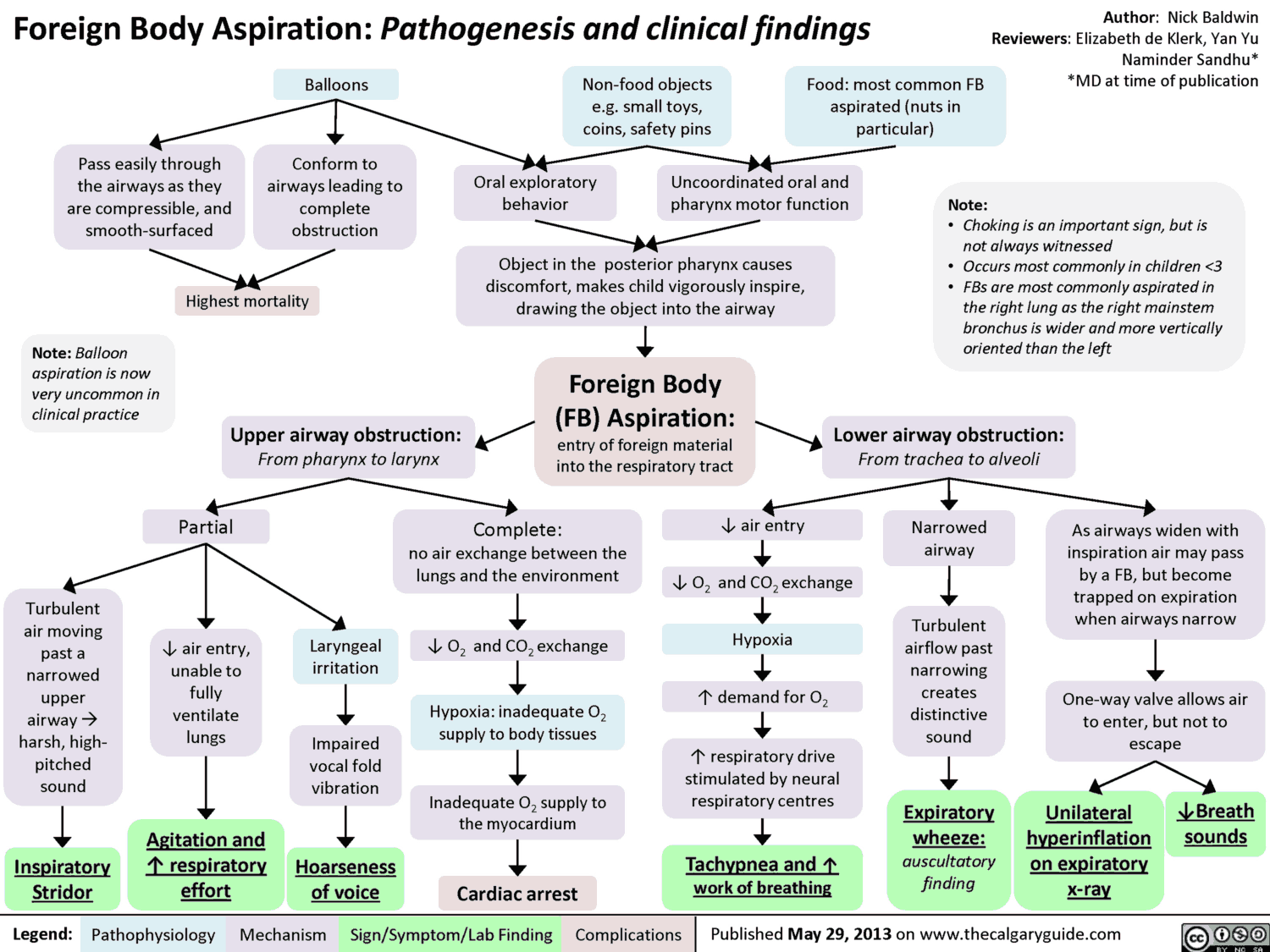 Diagnosis of Foreign Body Aspiration
History

Only 50% diagnosed in first 24h
Usually asymptomatic in ED
Witnessed foreign body aspiration?
Elicit a choking/coughing episode in the history (sudden onset dyspnea/choking/cyanosis)

Xrays (normal in 2/3)
CT
Treatment of Foreign Body Aspiration
Position of comfort
ENT
Referral for bronchoscopy
Complications of Foreign Body Aspiration
Obstruction, infection, fever, cough
Croup
General
Peak incidence in 1-2 year
Organisms: Parainfluenza I (most common-80%), II and III, M. pneumoniae, RSV, Influenza (severe form), adenovirus
Clinical features of Croup
Age: 6m-4y; Season: fall-winter
Viral prodrome
Barky cough, hoarse (subglottic airway narrowing)
Fever: common in croup, but usually not toxic
Lateral Neck Xray: Steeple sign (non-specific finding)
Croup score? (See table)
Symptoms peak over 2 days and resolve over 1 week
Croup score: mild (0-4), mild/mod (5-6), moderate (7-8), severe (9-14), terminal (15)
| | | | | |
| --- | --- | --- | --- | --- |
| Croup Score | 0 | 1 | 2 | 3 |
| Color | Normal | Dusky | Cyanotic | Cyanotic on O2 |
| Air movement | Normal | Mild | Moderate | Marked |
| Retractions | None | Mild | Moderate | Severe |
| Mentation | Normal | Restless | Lethargic | Obtunded |
| Stridor | None | Mild | Moderate | Severe |
Treatment of Croup
Cool mist

Sooths inflamed mucosa
Multiple studies show minimal efficacy in treating croup (JAMA 2006;295(11):274)
Generally not helpful
Steroids

Indication

: all croup in the ED?
Decreased mortality for croup from 1/200 to 1/30,000
Multiple studies show efficacy, associated with a decrease in ED stay and ED bounce backs (Ann Emerg Med 2002;30(3):353)

Dose

:

0.15mg/kg vs 0.3mg/kg vs 0.6mg/kg?? (Max 10 mg)
All equally efficacious PO or IM or inhaled (Acad Emerg Med 2003;10:16)
IV formulation can be given po
Racemic epinephrine

Indication

: mod/severe croup; stridor at rest → can help reduce need for emergent intubation

Dose

: 0.25-0.5ml of 2.25% solution with saline to total of 3ml

Racemic Epineprine vs Epinephrine?

Equivalent: substitute with epinephrine 0.5ml /kg of 1:1000, 5ml max with equal efficacy (Pediatrics 1992;89(2):302) (Cochrane Database Syst Rev. 2011 Feb 16)

Rebound phenomenon?

No need for admission for observation, if significantly improved → can be safely discharged after 3 hours (Ann Emerg Med 1995;25:331-7)

Repeat Epinephrine

Usually 2 doses of epinephrine = Admit
But, if they respond to the 2nd epinephrine, well-appearing and observed 2-4 hours without decompensation → can possibly discharge home
Summary: may give cool mist, steroids for all kids in ED, epinephrine only if they have stridor.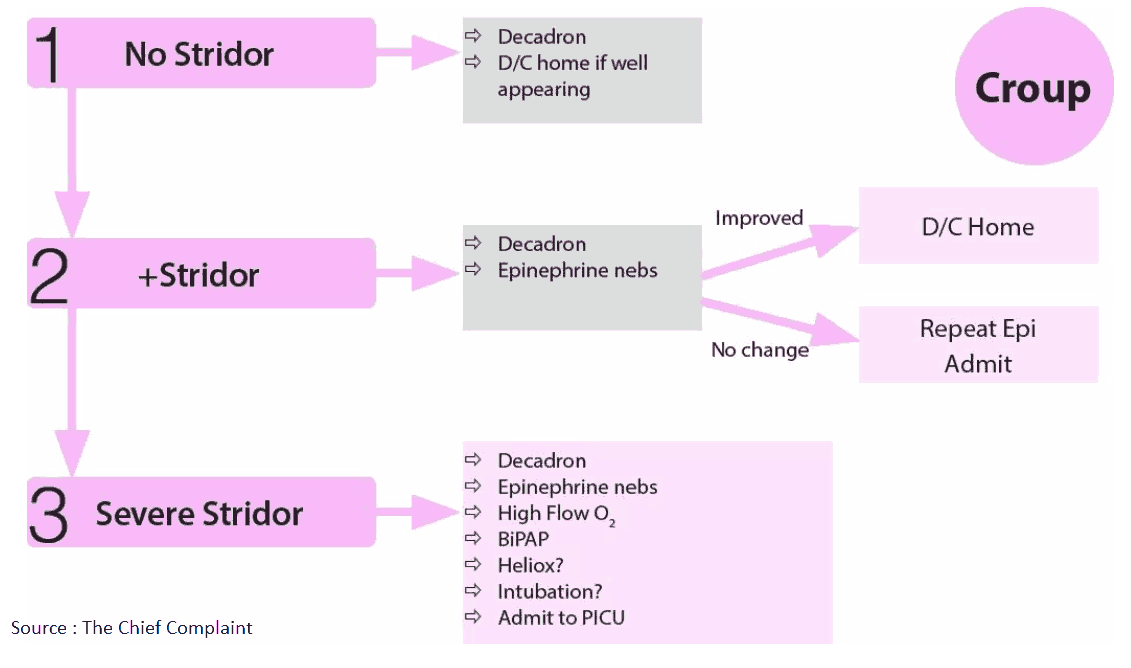 Disposition
Discharge: well-appearing, normal color, no stridor at rest, no ALOC (Altered Level of Consciousness)
Admit: Moderate croup score, toxic appearing, respiratory distress, received more than 2 doses of nebulized epinephrine
Consider Congenital Causes of Stridor in Children
Stridor present since birth? Congenital Causes of Stridor:
Laryngomalacia
Subglottic stenosis
Vocal cord paralysis
Vascular ring
Webs
Papillomas
---
References