ECG Characteristics of Atrial Flutter
Characteristic features of Atrial Flutter are:
Atrial rate around 300/min
'Sawtooth' baseline
AV block (commonly 2:1, but can be 3:1, 4:1 or variable)
In atrial flutter the atrial rate is usually 250–350/min and often almost exactly 300/min. The AV node cannot normally keep up with such a high atrial rate and AV block occurs.
This is most commonly 2:1 block, where only alternate atrial impulses get through the AV node to initiate a QRS complex, although 3:1, 4:1 (image1) or variable degrees of block (image2) are also seen. Thus, the ventricular rate is less than the atrial rate, and is often 150, 100 or 75/min.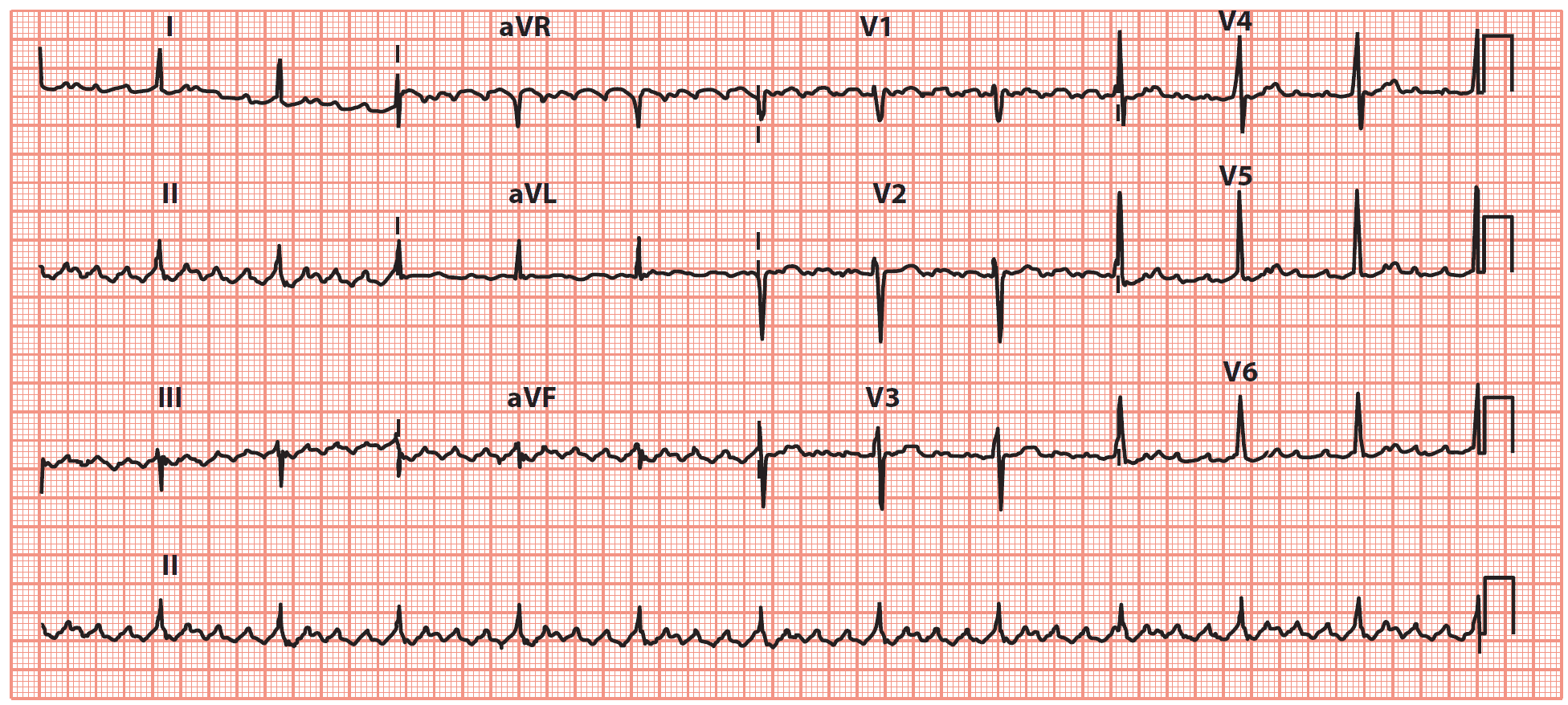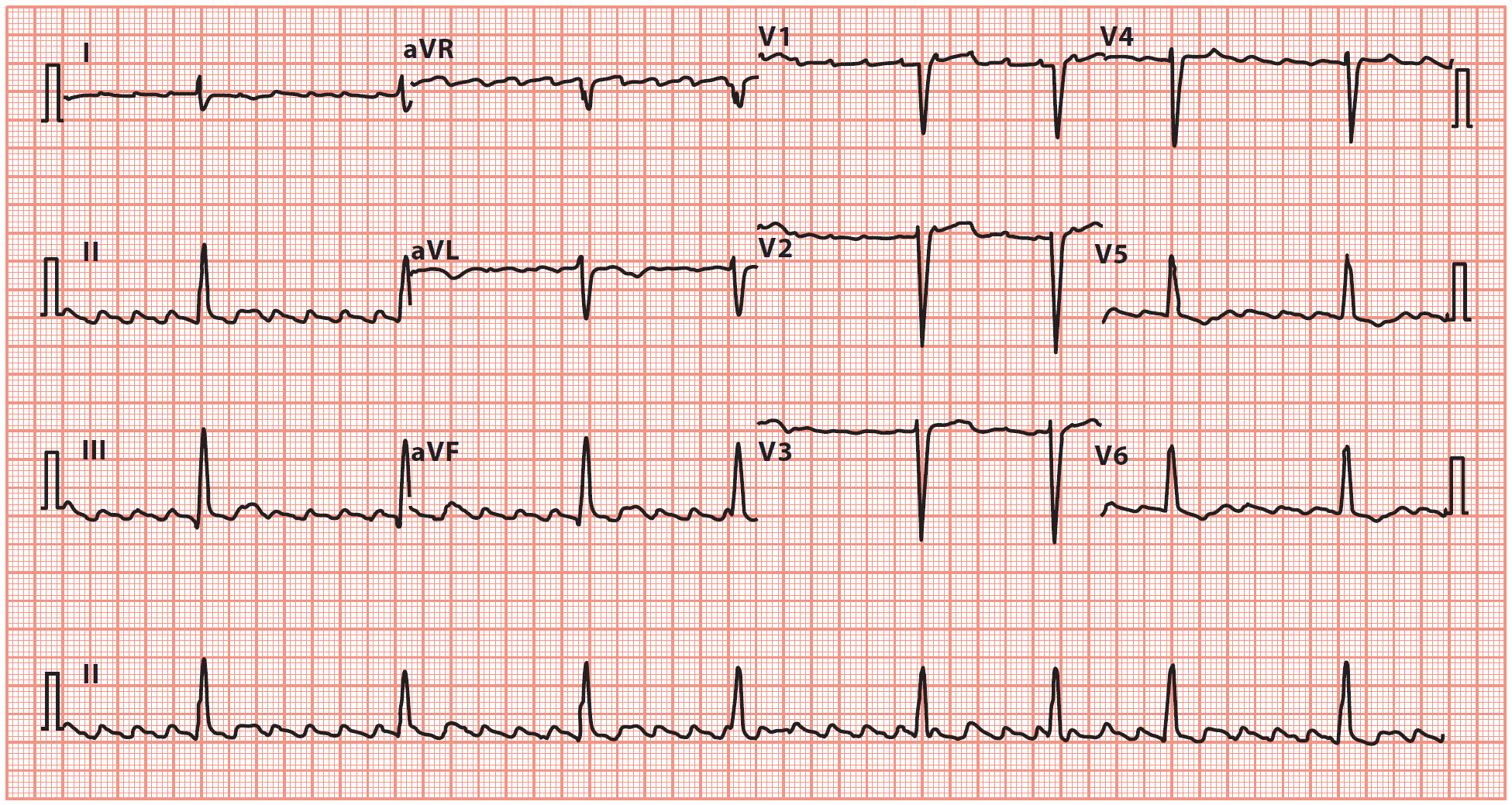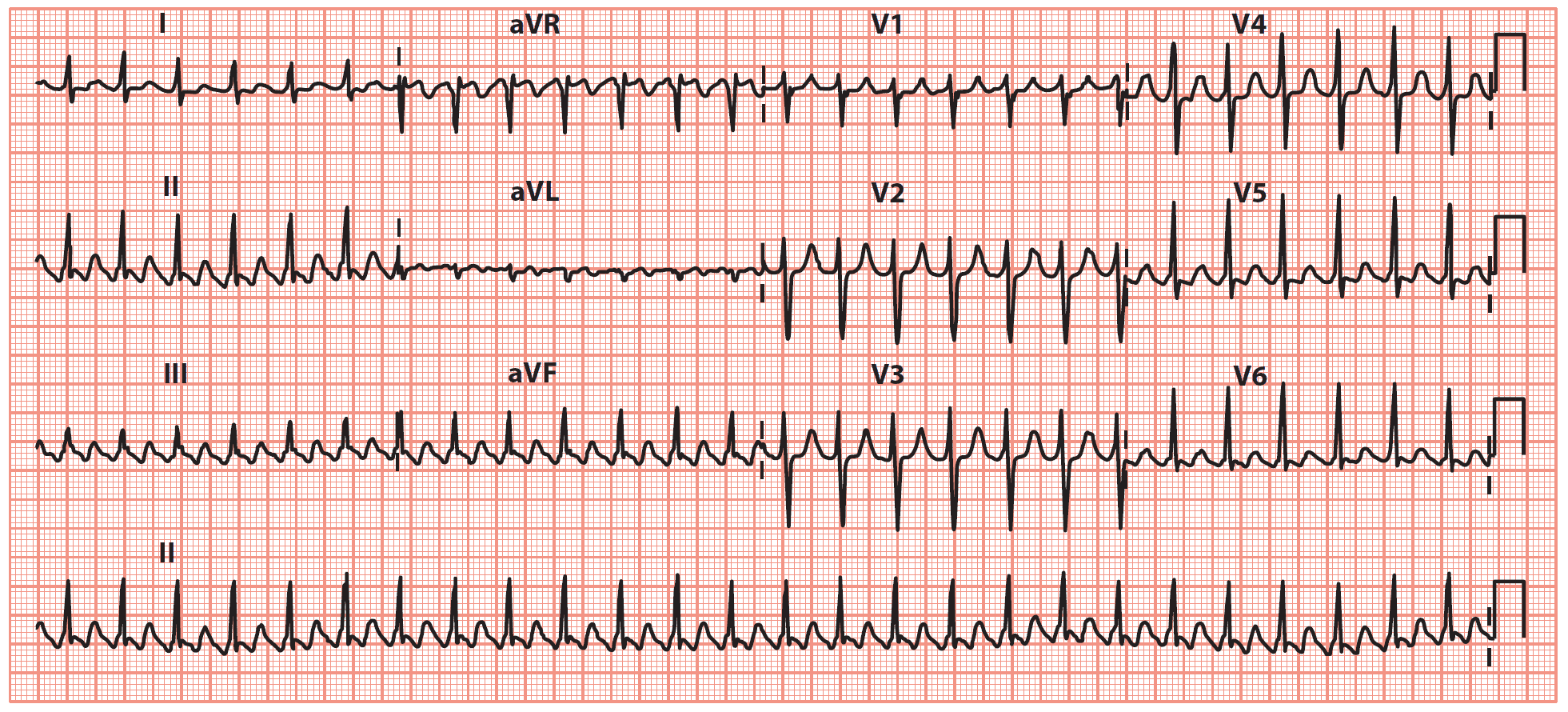 You should always suspect atrial flutter with 2:1 block when a patient has a regular tachycardia with a ventricular rate of about 150/min.
READ MORE about Conduction Blocks at the AV Node (AV Blocks)
The rapid atrial rate gives a characteristic 'sawtooth' appearance to the baseline of the ECG, made up of flutter or 'F' waves. This can be made more apparent by carotid sinus massage or by giving adenosine. This will not terminate the atrial flutter, but will increase the degree of AV block, making the baseline easier to see by reducing the number of QRS complexes.
Note: Carotid sinus massage should be performed with the patient supine and with the neck slightly extended. Do not perform carotid sinus massage if carotid bruits are present, or if there is a history of cerebral thromboembolism. Massage the carotid artery on one side of the neck, medial to the sternomastoid muscle, for 5 s. The technique can be repeated, if necessary, on the opposite side after waiting for 1 min. The ECG must be monitored continuously throughout the procedure.
Pathophysiology of Atrial Flutter
Atrial flutter is often considered to be a subtype of atrial tachycardia and is characterized by a macro re-entry circuit, typically within the right atrium and involving the cavotricuspid isthmus (CTI-dependent or Type I flutter).
Less commonly, other forms of flutter are seen that do not involve the CTI (non- CTI-dependent or Type II flutter). These usually occur in relation to an area of scar tissue in the atria, often in the context of prior cardiac surgery.
In the commonest form of atrial flutter, it takes about 0.2 s for the impulse to complete a circuit in the right atrium (in most cases moving in a counterclockwise direction), each time giving rise to a wave of depolarization and a flutter wave on the ECG. There are thus about five flutter waves every second, and so around 300 every minute.
Atrial Flutter: Causes and Predisposing Factors
The causes and predisposing factors for atrial flutter are similar to those for AF.
Hypertension
Ischaemic heart disease
Valvular heart disease
Cardiomyopathies
Myocarditis
Atrial septal defect and other congenital heart disease
Alcohol
Pneumonia
Cardiac surgery
Atrial Flutter Treatment: Rate and Rhythm Control
Rate Control of Atrial Flutter
Although these drugs can be used simply to control the ventricular response, it is preferable to aim to restore sinus rhythm with rhythm control.
Rhythm Control of Atrial Flutter
Synchronized Electrical Cardioversion (70-120 J)
Drugs:

Ibutilide
Dofetilide
Sotalol
Amiodarone
Atrial flutter can be converted to sinus rhythm with electrical cardioversion in the same way as for AF, although often with lower energy levels.
Prevention of Atrial Flutter Recurrences
Drugs:

Amiodarone
Propafenone
Sotalol

Radiofrequency cathetet ablation
Although drug therapy can be used to help maintain sinus rhythm in the long term, it is usually preferable to consider radiofrequency ablation of the atrial flutter circuit as it has a success rate >95%.
Great care has to be taken if flecainide is used in the treatment of paroxysmal atrial flutter. Flecainide can cause a paradoxical increase in ventricular rate (due to slowing of the atrial rate, which then facilitates 1:1 AV node conduction). If flecainide is used in the treatment of atrial flutter, it is usually given in conjunction with a negative chronotrope such as a beta blocker or digoxin to reduce the risk of high ventricular rates.
ECG Cases with Atrial Flutter:
References / Further Reading